The DST2-TG, Double Target Turbo Pumped Sputter Coater and Thermal Evaporator for Glove Box Use, is a multi-vacuum coater system that combines thermal evaporator and sputter coater in one single compact desktop system with remote system control through a Wi-Fi connection, controllable by both touch screen and PC. The high vacuum system is suitable for the deposition of a wide range of materials. Double magnetron target desk sputter coater can easily switch between evaporation and sputtering deposition for the preparation of multilayer coatings.
Glove box systems provide a protected environment for sensitive material, preventing any contact with air or humidity and unwanted interactions. DST2-TG high-vacuum coating system with glove box offers safe and clean substrate handling before or after a deposition process under inert gas atmosphere, and a highly controllable chamber environment, contributing to high purity thin layer deposition under high vacuum conditions.
Applications
The DST2-TG, Magnetron Desk Sputter Coater, is equipped with a large chamber (300 mm diameter) and two 2" diameter water-cooled cathodes which make it suitable for long-time deposition. The DST2-TG is a single platform for sputtering, carbon fiber, and metal evaporation. The desk sputter coater for glove box can sputter semiconductors, dielectrics, and metal targets. Sputtering cathodes and thermal evaporation boats could be installed together or interchangeably, with an overall three deposition sources accessible. Carbon deposition is also made possible by utilizing carbon fiber.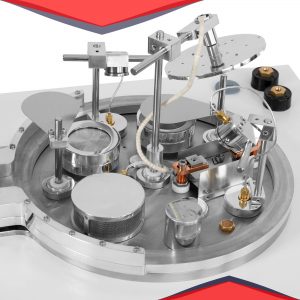 This high-precision vacuum coating system is semi/fully automated, equipped with a 7" colored touch-screen panel using user-friendly software to control and adjust the deposition process data. The panel window is also made available on pc through a Wi-Fi connection. The vacuum and coating sequence information can be observed as digital data or curves on the touch screen and the last 300 coatings are saved on the history page.
The sputter coater and thermal evaporator for glove box can be equipped with optional facilities including:
RF power supply with an auto-adjustable matching box which minimizes the reflected power in the RF sputtering process

Plasma cleaner for removing organic matter from the substrate surface before thin film deposition 
Features of DST2-TG
Hardware Specifications
Combination of sputter coater and thermal evaporator for glovebox mounting

Built-in turbomolecular pump

Large chamber: Dia. 30 cm, Height. 20-25 cm

Easy and quick target installation: No target holder needed

Boosted heat conduction utilizing targets with backing plate

Rotating sample holder

Glovebox mounted KF40

feedthroughs

for power supplies (DC, RF, high current), vacuum pump hose, water cooling and argon/reactive gas connections, and electrical connections.

Gas injection control through MFCs

Two-precision quartz crystal thickness sensors
Automation
Semi-Fully automatic coating process (optional)

Ability to rapidly enter and store deposition process data

Controlling the deposition process from pc through a Wi-Fi connection

Storing coating recipes for repeatable depositions

Electronic shutters

Automated cathode selection
Optional Facilities
RF sputtering for deposition of non-conducting targets (optional)

Plasma cleaner (optional)